My Most Liked Instagram Post Ever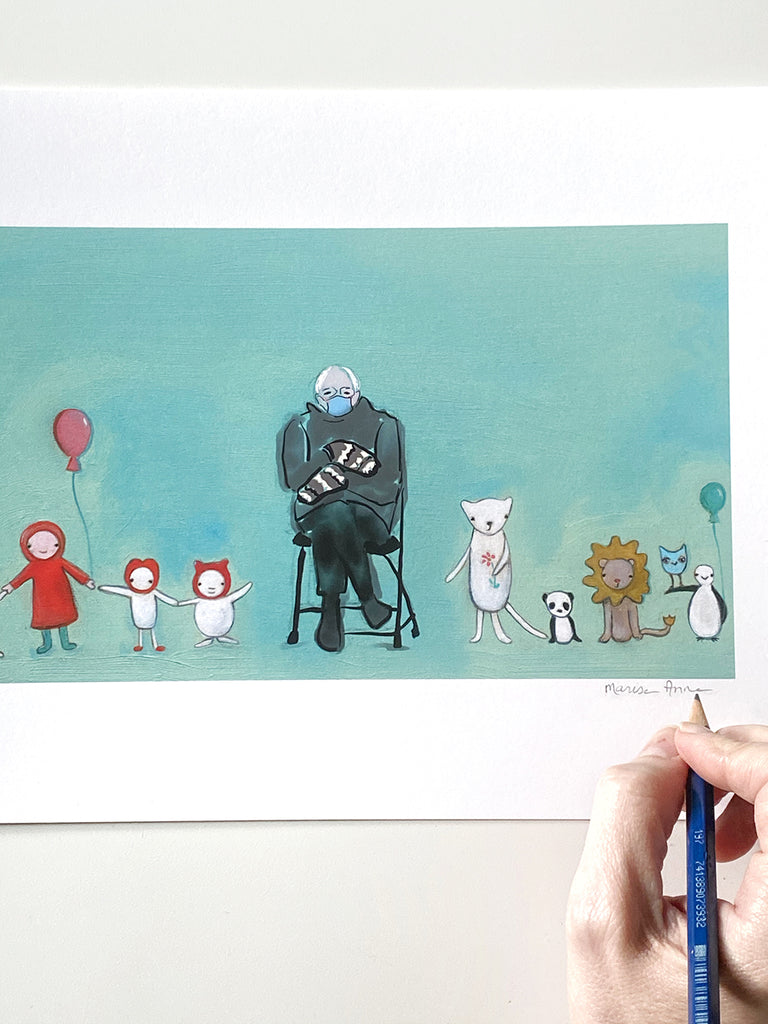 Is now a print and a podcast!
Today's episode is 3 Social Media Marketing Tips for you! especially for my Artists. These are the steps that can lead to a viral post, and Art sales.
Enjoy!
After 10 years on Instagram who knew? this would be my most liked post EVER, (so far 😉 )
I heard you! and I listened, and turns out this illustration of Bernie + his mittens sitting with the Creative Thursday characters is bringing a lot of joy to you, so much so you want one in your home! By request, Bernie is now officially a print!
If you don't know the backstory to this piece. "The Gang Celebrates" is one of my most popular images and prints. Originally painted in 2007, it went on to become a Papyrus greeting card, the cover of my book and the theme of my very first fabric collection ~ these are the Creative Thursday characters that built my business + brand as an Artist.
I was just recounting the story today on a call with my members and that is this; These characters were born through the practice of daily painting and I didn't know it at the time but looking back I know they were there to gently cheer me on with my dream of becoming a Working Artist.
I was self-taught, going into debt, filled with more self-doubt then confidence and totally unsure if this dream was possible, let alone knowing how I could actually make a living with my Art~  and these characters, holding hands in hoodies, hats and mittens (because I don't like to draw hair or hands or feet lol) believed in me ~ and creating this style of Art is what kept me going through really exciting and very challenging times.
And as they made their way out into the world, it turns out a lot of collectors felt the same support and encouragement from those characters.
They are! cheering you on too!  bringing joy to your and/or your little ones, present in thousands of nurseries as a quiet reminder to follow your dreams and keep believing in what is possible.
Last Friday when I sat down to digitally paint Bernie sitting with them, I thought you might get a chuckle but I had no idea this image would be such a hit.
In honor of Bernie Sander's public service and dedication to supporting community, 20% of the proceeds of each print will be donated to the L.A. Food Bank.