Are you Hiding? + Celebrating 200 Episodes!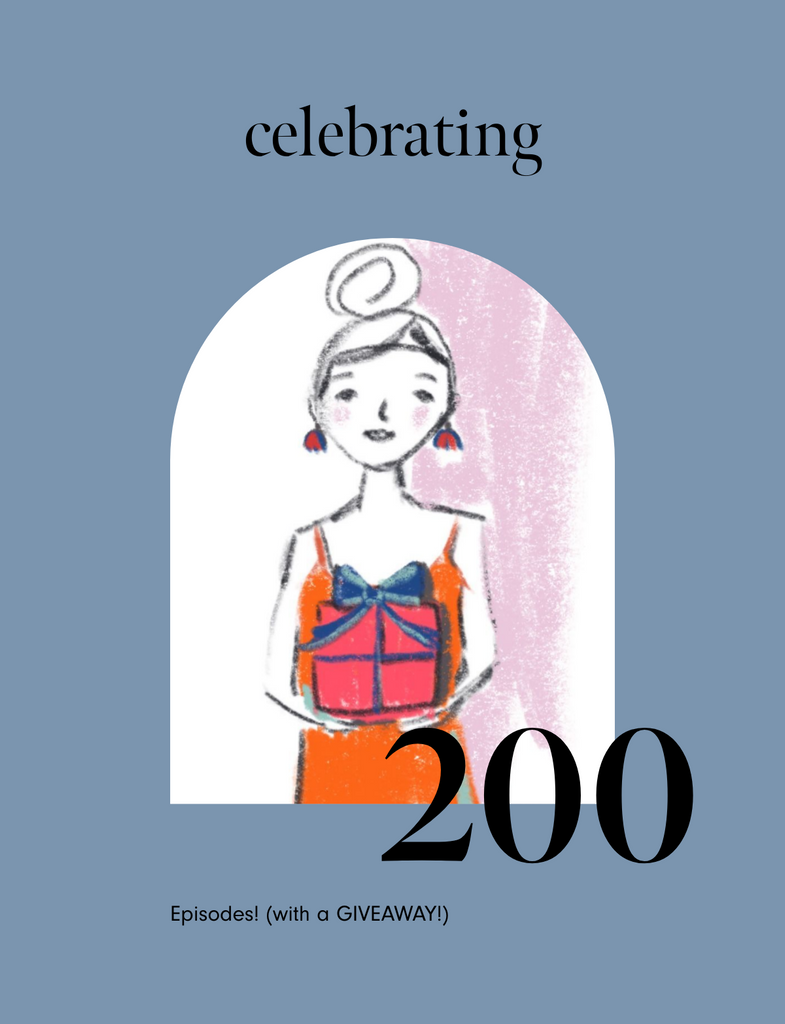 Happy Creative Thursday! Today calls for a celebration!
Story time: in 2006 I started a podcast, Creative Thursday with Marisa. (remember that time? when nobody knew what a podcast was.)
In August of that year, I brought the podcast to my website, and started blogging with each episode~ which was exactly what initially helped me to become known in my creative circle, and begin to grow my successful Art business.  I then put the podcast on pause for what I thought was to put all of my focus on my Art  (but truthfully it was because I was hiding…the topic of today's episode…) 
In December of 2017 I brought it back and have consistently recorded a new episode every week since then. 
For an introvert who was still worrying "what people will think of me" and would honestly on most days rather quietly paint than share my voice with the world, 200 episodes is a BIG accomplishment.
Because when I paused it before, and then kept getting the pull to come back and share my perspective beyond my Art ~with the hopes of making a positive impact, inspiring, and uplifting you ~ it took a lot of inner courage for me start up again. (Because I was also judging myself for stopping, and equally frustrated at the momentum I had a lost in a space I was once a pioneer)
While I was away from the podcast, there was also a season of life filled with a lot of loss (I've shared why in other episodes) that caused me to retreat and I just wasn't sure if I had the energy to return.
But if I was being really truthful with myself, staying in the background was the last thing I wanted to do. I knew if I chose that path, I'd be giving up on me.
My frustration over not fulfilling a passion for this kind of self expression was mounting, and I could deny it no longer.
And yet, in all these many episodes back I realized on this 200th one that I am still not playing full on. 
And it's time to change that, which is why maybe you've caught a few epiphanies, I've also been jumping on LIVE on both Instagram and Facebook for 30 days of Creative Epiphanies with Marisa.
My question for you: If you genuinely want to shine your light once and for all, be seen and have a desire to make a positive impact in this world, why aren't you? Are you hiding somewhere in your life? Where are you allowing your light to be dimmed? These are 3 examples to know if you might be hiding
You aren't sharing your voice, your creations, your Art (in whatever expression or discipline) with the world (and/or you're afraid to start your business)
You don't want your picture taken or refuse to take a selfie
You won't raise your hand in class (meaning if you are in person, or on a Zoom call like many of us are these days, you might not put your camera on and more specifically if you are being invited to get help, ask a question, share a challenge or a win, you stay silent)
In today's live broadcast, day 5 of the 30 days of creative epiphanies I share with you 3 gentle steps you can take to stop hiding.
And lastly!
hello! a celebration isn't a celebration with out a GIFT for you!
I'm hosting a GIVEAWAY!
Want to win a never before released, coming soon to the shop Creative Thursday Collector Box! Yes! Here's how: If you're loving the podcast be sure to leave a review over on iTunes. Hop into your podcast App, scroll to the bottom, beneath the reviews there's a little box that says "Write a Review". Screenshot it, share on Instagram, tag me, email me or dm me the screenshot on Instagram and you will be entered to win!
Thank you so much for listening! Enjoy episode 200 below.